How IT & Software Development is Changing in 2023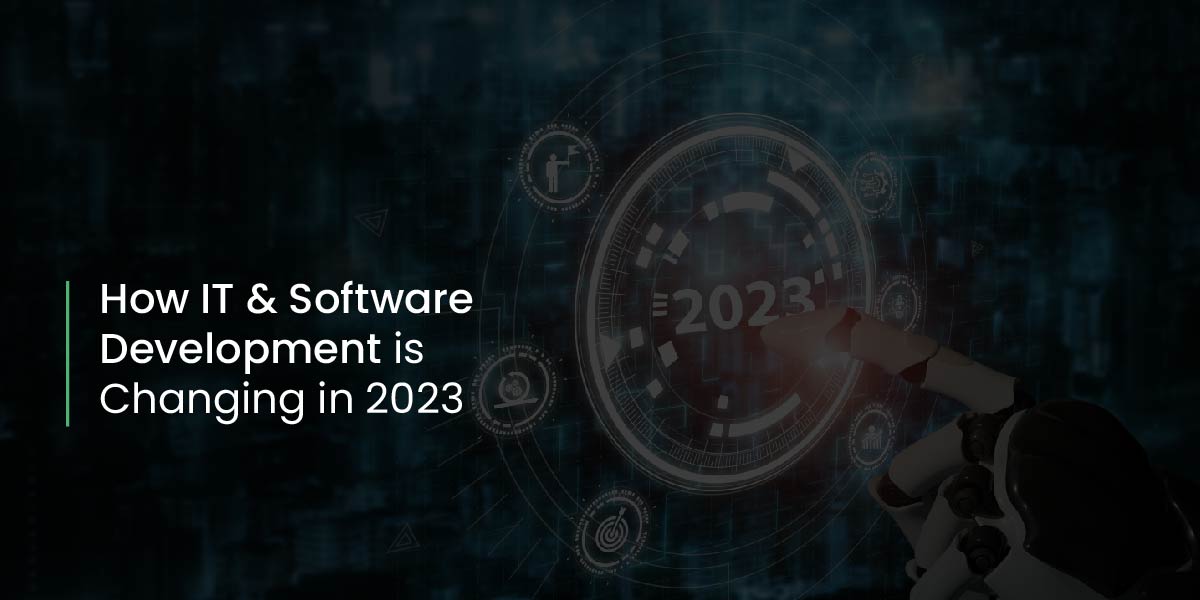 Since the beginning of computers, software has played a significant role in defining how machines solve problems. From using the command line to seamless GUIs (Graphical User Interfaces) software has evolved, providing humans with complete control over computers. Today, IT software development is a multi-million dollar industry itself as digital solutions expand all over the world. The numbers back the statement, as the enterprise software revenue was recorded at $224 billion in 2021. This was a significant jump compared to the previous year's statistics. The wide adoption of software in the business sector was due to the COVID-19 outbreak when firms shifted their operations from on-premises to the cloud. Now, it is expected to increase further, touching $262 billion by the end of 2023.
This blog will walk you through the demand for software development in 2023, what has changed, and how to prepare for the upcoming challenges in the software application development market.
What Made the Software Development Market Boom?
There are many external factors as mentioned earlier that made the software development industry skyrocket. The most obvious is the COVID-19 hit that made the industry identify its options to continue operations virtually. In fact, the tech sector was the only running area that experienced a lot less impact compared to other industries. It was the time when businesses understood the importance of remote work and devised ways of getting the most out of technology while staying at home. Even after the government lifted the COVID-19 protocols after it was under control, many businesses did not change their remote working guidelines. Companies also found out that a significant number of workers did not want to come back to the office.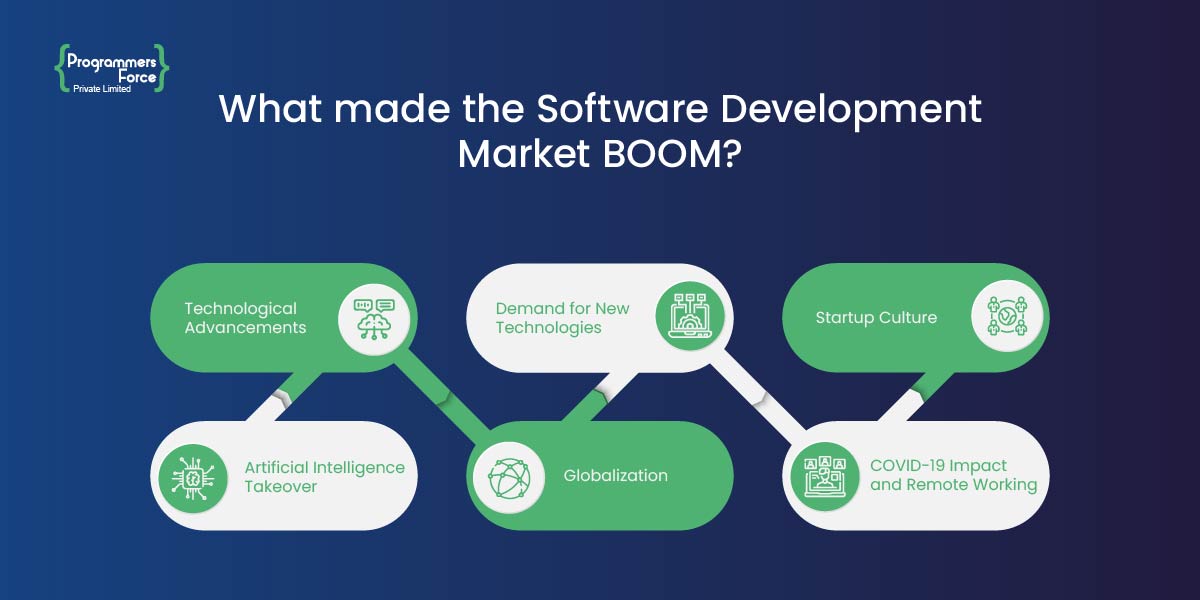 Here are some other factors that are driving the IT software development market to new levels. 
Increased Demand
With the advancement of technology, there is a greater need for software goods and services. From healthcare to banking to retail, software has become an essential component in nearly every business. Businesses seek software developers to offer solutions that match their unique demands as they strive to boost efficiency and productivity.
Technological Advancements
In recent years, the software development business has profited from considerable technical improvements. Modern programming languages, frameworks, and tools have made software development easier and faster. Cloud computing and mobile technologies have also broadened software's reach, making it more accessible to both enterprises and consumers.
Startup Culture
The startup environment has been crucial to the expansion of the software development sector. With the rising popularity of startup culture and venture capital investment, there has been a surge in demand for software development services to bring new products and ideas to market.
Globalization
With the emergence of the internet and globalization, firms may now more easily outsource software development work to nations with cheaper labor prices. As a result, there is more competition and lower prices for software development services.
Internal Factors that Boost Software Adoption
There are many factors within the software industry that increase digital adoption. All the advancements around us are not solely led by external factors but some of which arrive from the industry itself as developers introduce new solutions, increasing chances for newbies coming into the market. Here are some of the most promising internal factors that contribute to the improvement of the software sector.
Low Code/No Code Approach
One of the most prominent changes is the proliferation of low-code/no-code platforms making it easier for newbies to enter the software development market with zero coding expertise. Using a low code/No-code approach allows them to create their own solutions easily by writing minimal lines of code. Other than newcomers, people that work in Non-IT staff of any company can also perform basic software operations that can benefit their day-to-day operations, while assisting them to counter the shortage of talent. 
Upskilling Programs
Since we mentioned the shortage of talent in the software industry. There is always a shortage of resources in every IT software development company to cover every tech stack. To solve this issue many firms introduce Upskilling and reskilling programs to train their workforce as well as gather new talent from the market. There are a number of benefits to upskilling the workforce, for instance, it can help them learn new technology stacks increasing the company's offerings. Many firms partner with educational institutions to prepare the workforce for adopting new talent. 
Artificial Intelligence
AI is generating substantial breakthroughs in software development and, as a result, is increasing the acceptance of software development methods. AI-powered solutions can generate code snippets based on natural language input from developers, reducing coding time and thus increasing productivity and speed to market. 
One significant example is the trending GPT-3 language model that is doing rounds among developers. Artificial intelligence can also automate testing and uncover defects and potential issues in code, assisting in the resolution of issues before they become major difficulties. Moreover, AI may examine code performance data to forecast when the software will require maintenance or upgrades, as well as adapt software based on user behavior and preferences. All of these developments make software development faster, more efficient, and more successful, leading to greater adoption of software development processes.
How Programmers Force Can Help
Software development has changed significantly over the past years. With new technologies playing a prominent role in the tech sector. The Programmers Force has contributed great tech solutions to the market and works on numerous tech stacks with the vision to utilize technology for the betterment and ease of humankind. We are looking for skilled developers, data scientists, and machine learning engineers to be part of our talented workforce. If you are looking for an IT software development company to polish your skills and boost your growth, look no further, as we are here just a click away.