Top 10 Software Development Trends in 2023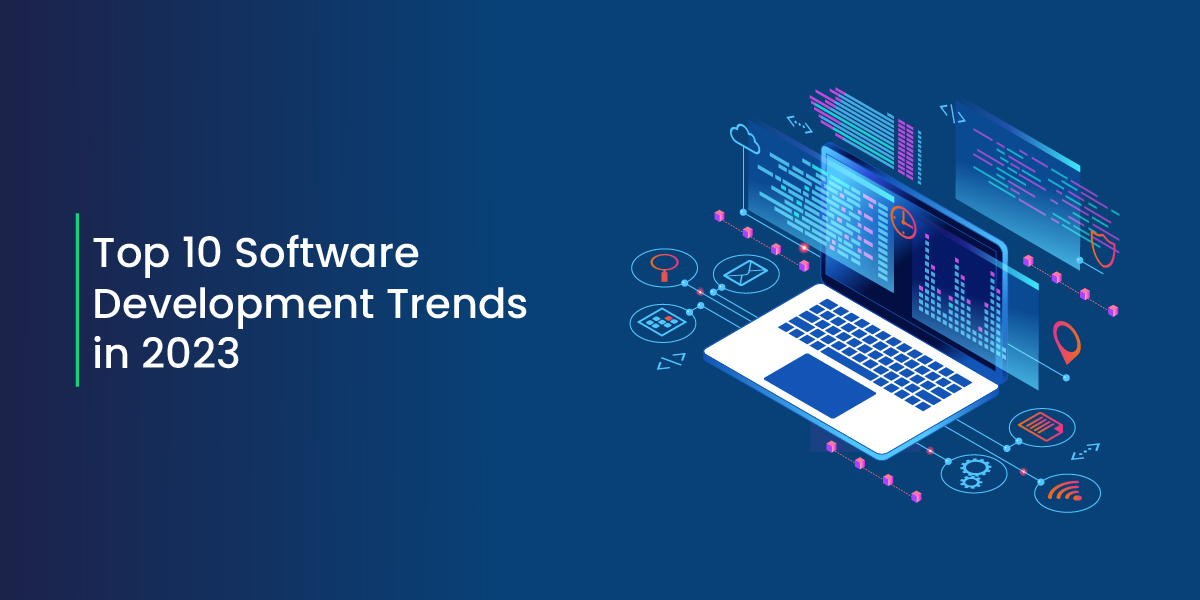 The world is changing dramatically, especially after the period of the pandemic. Businesses are adapting to the radical transformation to keep up with the market conditions. The exact rapid change applies to information technology services firms, which continue to grow in this era of digitization. According to statistics from the PwC Pulse Survey, 60% of the executives say that digital transformation is the most crucial growth driver this year. Firms are shifting their concerns towards digitization, transforming development technologies and strategies inline with the ever-changing business landscape. Here is the list of the top 10 trends in the software development market that every firm should be aware of in 2023.
1. Low-Code Development
Modern approaches to software development have been tapped to help professionals create innovative applications. A major concern for every firm is the challenging and expensive nature of the development environment. This issue led the industry to encourage a straightforward approach to developing applications, i.e., low-code or no-code development. According to research, the concept of curating websites and modern software with the low-code approach has experienced 76% growth in the past two years. Low-code development is the method to boost development time with pre-made code snippets. The process allows developers to drag and drop elements in a visual interface essential for any application.
2. Remote Working
Previously, due to the impacts of COVID-19, many industries found it difficult to manage their operations as usual. The concept of remote working was introduced in many firms that proved revolutionary in the era of lockdown. Even after the pandemic, companies still prefer utilizing remote settings as it takes each business operation on the cloud, which is easier to manage than traditional solutions. A remote working environment improves the organisation's budget, saving time and resources. Also, remote working provides more extensive access to the talent pool, making it one of the significant technology trends to follow in 2023.
3. Digital Transformation
The impact of COVID-19 on the digital industry led to significant changes in firms of all sizes, but digital transformation continued to grow in major enterprises. It is a huge stepping stone as many IT firms will strive to save costs by modernizing their legacy systems. Digital transformation will replace ineffective technologies and approaches with innovative and fast ones, making software development smoother and more efficient. Modern tech stacks and other innovative approaches dominate the market as they significantly boost the performance of business operations, improving products and services.
4. IoT Enabled Devices
The statistics show that IoT is rising, as there will be more than 65 billion IoT-enabled devices by 2025. It is the interconnectivity of products through the internet that allows them to communicate with each other in different scenarios. These devices can be attached to anything for tracking and making appropriate decisions depending on the situation. Organizations will use technology to improve their existing services and make an intelligent development ecosystem. IoT services experienced a 24% growth in the past year, making it one of the major trends to look for in 2023.
Growing Cloud Services
Remote adoption of firms is increasing the value of the cloud in the modern software development industry. The shift in IT needs has improved the cloud service architecture, and it will soon become the new normal. Cloud services help streamline business operations effectively, increasing security among the data transfer channels. It also enables 24/7 active support to the end customer, uplifting customer support operations. 41% of the businesses adopted the cloud infrastructure this year and expect it to double over the next few years.
6. Big Data Approach
Regardless of any industry, businesses depend on data processing to gain efficiency in operations and customer services. As digitization prevails in the modern world, big data and analytics have become increasingly essential for making effective and quick decisions. According to Statista, the big data market will rise at a 30% compound annual growth rate, touching more than $68 billion in revenue by 2025. The increase in the popularity of data science predicts an increase in the number of applications and data consolidation methods.
7. Javascript still Rules the Web
JavaScript is the powerhouse of web applications and will continue to be the dominant programming language in the future. It is currently the most used technology to develop scalable and fast web apps. Many full-fledged website development technologies frameworks are also built on the foundation of JavaScript. The demand will continue to grow as it remains an excellent choice for firms to create modern and effective web solutions.
8. Microservices Architecture
Microservices are gaining tremendous popularity in the modern world. It is becoming a suitable software development architecture that facilitates working efficiently. In this development pattern, each component is separately developed and maintained. As per the research, 45% of firms voted for microservices to benefit development teams when creating modern-day applications. 
9: New Risks for Cybersecurity
As the world gets more interconnected, businesses will face new security risks. In the past, cyberattacks such as ransomware caused multiple losses to firms, costing more than $6 trillion in 2021. Hackers target organizations to steal their vital information to gather earnings illicitly. Many firms are investing enormous amounts in cyber insurance to prevent data breaches. Therefore it is a major concern for startups and business owners to take effective cybersecurity measures. Technologies like firewalls and testing tools will get a boost in demand. The IDC's 2022 Security and BuyerView Survey evaluated more than 1500 firms worldwide, from which 1414 confirmed cybersecurity transformations.
10. Blockchain Revolution
Blockchain is the buzzword for every professional working in the IT industry. It is a revolutionary concept and is gaining momentum. The technology aims to transform the industry and has already brought significant changes in the finance and supply chain sector. Businesses must recognize this technology in their daily operations as it packs a lot of potential for the future. According to Report Linker, the blockchain global market is expected to grow at 91.25% CAGR, reaching $15.88 billion by 2023.
Final Thoughts
This write-up covered the crucial development trends that will transform digital operations. Businesses will shift their concerns to innovative approaches and security systems to expand their offerings. Remote working has already introduced cloud adoption in many firms and will further increase due to its practical nature. Blockchain is changing the financial industry with its distributed ledger technology, improving transaction efficiency and network security. The latest market trends for software development will completely change the perspective, providing competitive advantages to firms. In a nutshell, the modern development landscape is full of innovations as new technologies take over traditional methods.