Top 5 Advantages of Hiring an Expert AI Development Company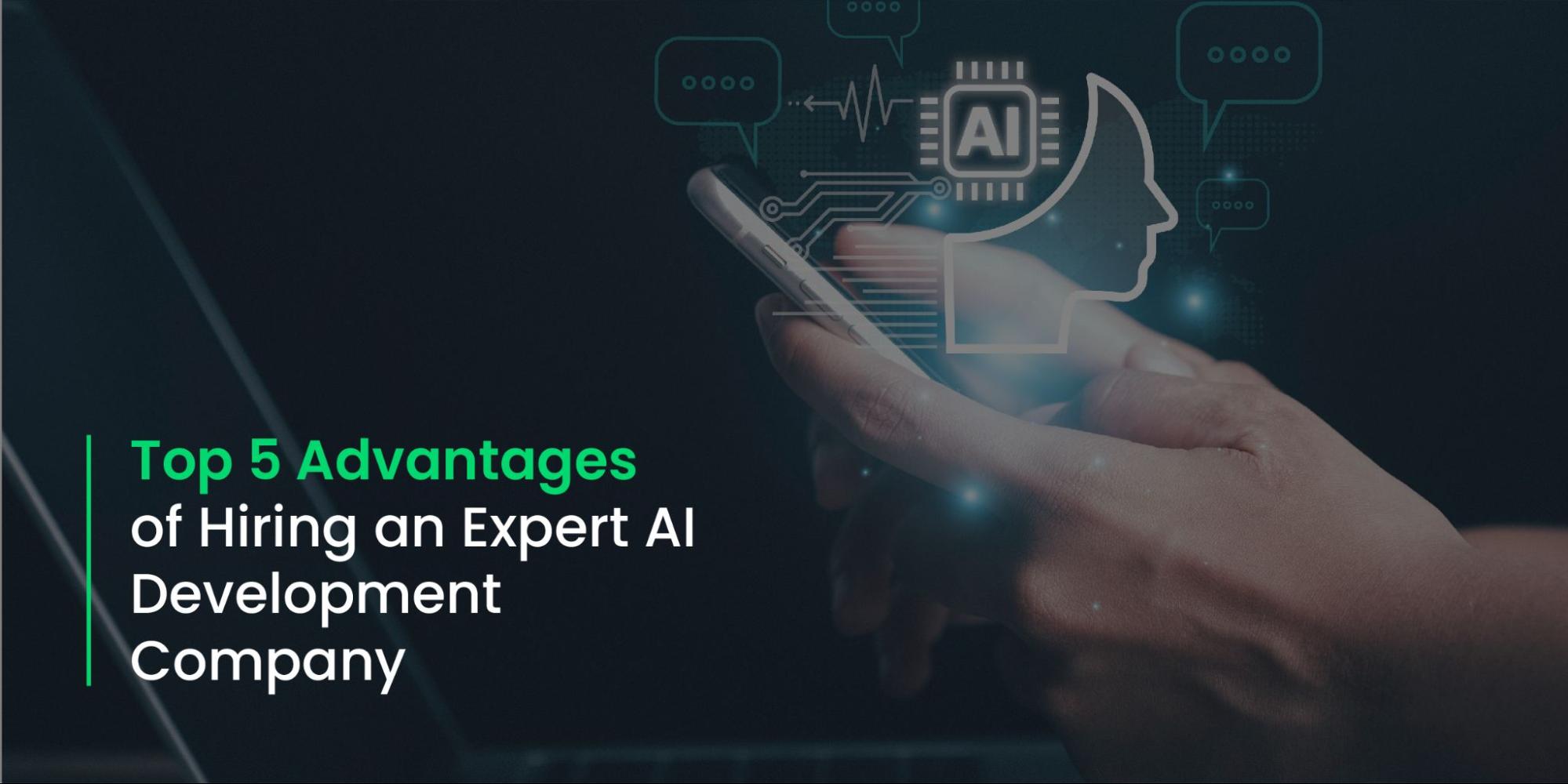 Every new business in the industry requires a software solution to compete in the market. It has become a major requirement in the modern world. Even for non-tech businesses, an intuitive web or mobile application is necessary to have a digital presence and a sense of reliability in the market. Today, business success largely depends on how strong their online presence is. According to Statista, around 45% of business owners believe having a good digital platform is crucial for business growth and success. Businesses that operate in non-technical areas face great challenges when it comes to creating a digital solution. They need to hire an AI development company which is well-equipped with the latest technologies and trends, such as artificial intelligence and cloud computing. This blog will discuss the top advantages of hiring a software development company. 
What is AI Software Development?
Software development has seen a major shift in practices and strategies. Everything has changed from programming paradigms to software design and development principles. The modern market is dominated by one technology which has taken the internet by storm, referred to as artificial intelligence. Now software development has evolved into AI-powered development. With artificial intelligence, companies can take software solutions to the next level with intelligent bug fixing, pair programming and automated test case generation. AI provides an excellent way for developers to create fast, reliable, efficient software solutions. 
Top 5 Benefits of Choosing an AI Software Development Company
Outsourcing software development operations has great advantages for a business that is new or doesn't possess a full-fledged team of IT experts. Startups and businesses that are not fully developed find it a major hurdle in front of their success when it comes to software development. Outsourcing the business operations to a well-reputed AI development firm can have many upsides in terms of business growth, success and future-run. Here are the top 5 most significant advantages of outsourcing AI software development.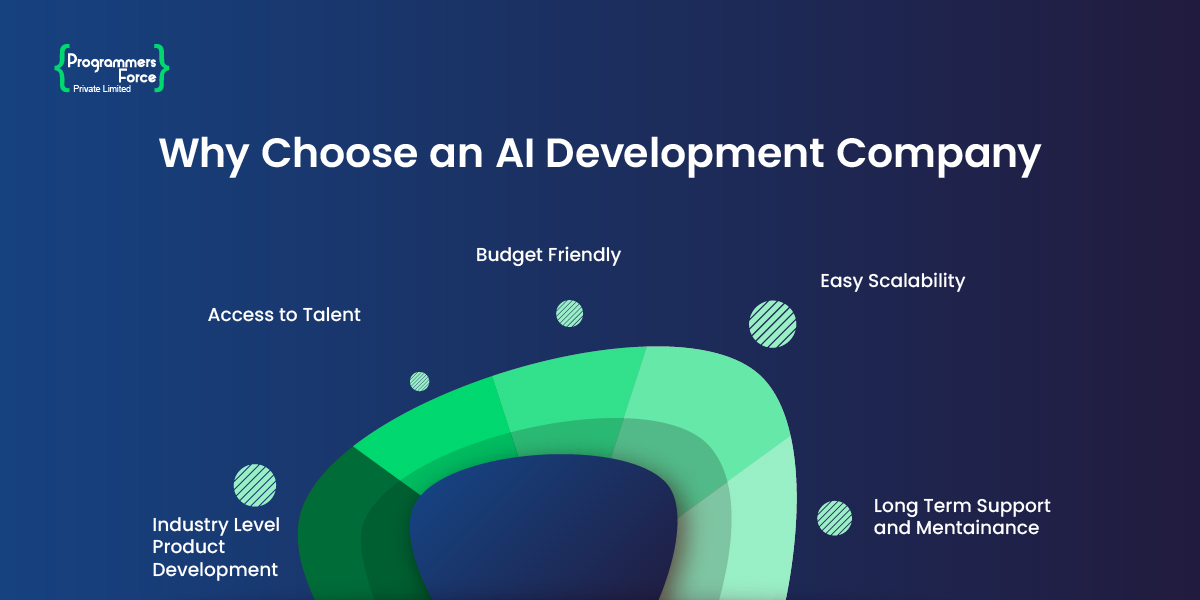 Industry-Level Product Development
Every business needs a top-level website or a mobile application that stands out from the rest. For that, it requires the implementation of the latest technologies and trends in the market. Outsourcing the software development operations to the right AI company can fulfill this requirement. It allows a startup to have industry-level product development, whether it is a simple website or a complete digital business platform. The right AI software development firm will allow a startup to achieve its objectives in the digital world, from listing its products online to having a complete Software-as-a-Service (SaaS) solution. Without outsourcing, it would become burdensome for a business in its initial stages to manage AI software development and develop a product that competes in the industry.
Access to Talent
Talented experts in AI software development are in high demand and charge large amounts to create software solutions that stand out from the rest. Outsourcing comes to the rescue here as well because it provides quick access to talent and industry-level teams that are capable of implementing AI the right way. The latest trends and practices require industry experts to implement modern algorithms and create applications that help a business grow, and build a strong reputation and trust across the market. Without a proper AI development outsourcing partner, businesses must spend large amounts to get the right software solution. 
Budget Friendly
As discussed above, outsourcing has a major plus in helping a business on a limited budget with AI software development solutions. From creating an industry-level software product to providing access to talented teams of experts, outsourcing provides a smart way of creating a digital identity for businesses at much lower costs. Without outsourcing, a firm must create a full team of software engineers and IT experts to carry out all the required development operations. 
Easy Scalability
The next major advantage of outsourcing AI software development to an industry-leading software development firm is the easy scalability option. When an organization is in its initial phases it only needs to fulfill the requirements of a limited number of users, but as time passes and the business grows, it needs to upgrade the existing digital solution to take care of a large audience. It can be a server upgrade, revamping a business website, changing UI or a simple performance upgrade by implementing the latest tools and technologies. A business can easily turn its software solution into a complete business platform with the help of the right outsourcing business partner. Scalability becomes ease and does not require building the software from scratch again. 
Long-Term Support and Maintenance
Another significant advantage of signing a business partnership with a leading AI software development company is long-term support and maintenance. Building software for a business is challenging, but what is more challenging is maintenance and ongoing support for the solution. The company, which is an expert in curating software solutions for business, eases the maintenance chores and provides long-term support. 
How Programmers Force Can Help
Choosing the right AI software development company can provide a whole lot of advantages to businesses. Conversely, a firm not the best fit for the company can cause troubles, such as a slow product, an incompatible solution that does not work on a wide range of devices or a system that cannot scale efficiently with time. The Programmers Force is a leading software development firm which provides AI-powered tech solutions to businesses. We have a long list of tech offerings and industry-leading software solutions that are being used in the industry. Contact us now to learn more about how outsourcing AI software development can help your business win in the market.