When to Choose a Custom Software Development Company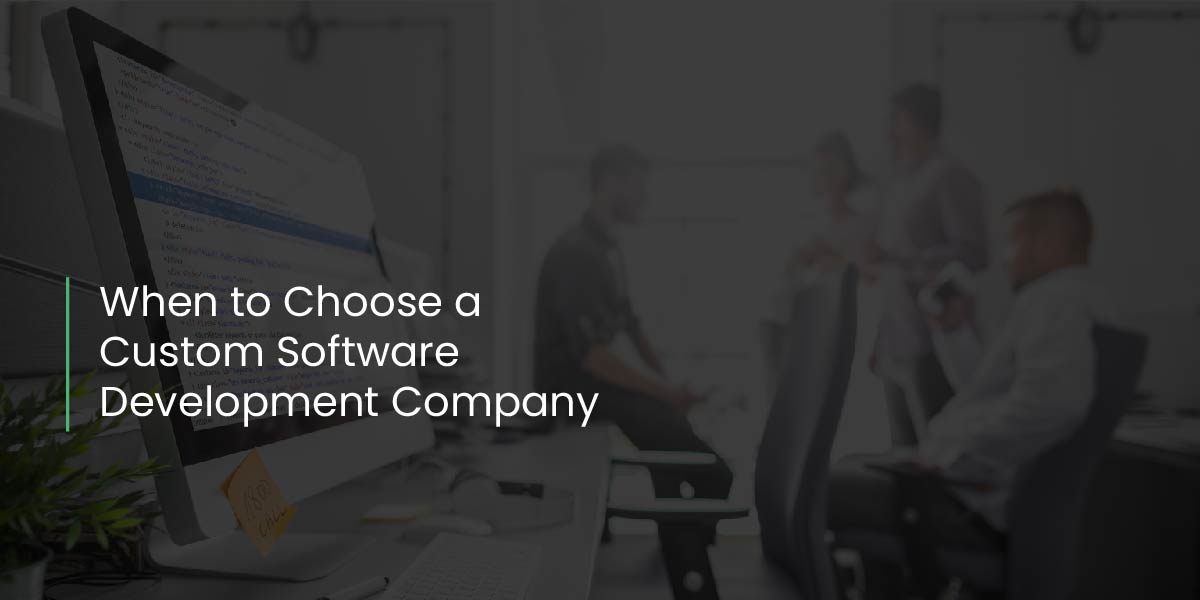 As the world is going digital at a tremendous pace, businesses operating in different industries now require software solutions to keep up with their competitors in the market. Digital solutions provide an efficient way of managing business operations, data, and employee records all in one place. Various pre-built software in the market aim to fulfill organizational needs from just keeping records to managing resources and operations. But these software solutions fall short for large-scale corporations that require a full-fledged digital platform that is distributed across various networks. For them, custom software development is the answer.
What is Custom Software Development? A Brief Intro
Custom software is a flexible and scalable solution from a software development company specializing in modern tech stacks. Custom software development has the potential to transform any business into a digital platform for new customers and a unique income stream. It is the process of creating a software solution based on the stakeholder's requirements. It provides a unique design and powerful processing with complete control over the product.
Despite all of its upsides to off-the-shelf software, this blog will cover some pros and cons of custom software development, which will help you decide on the next software development project for your business.  
Main Advantages of Custom Software: The Pros
Whenever choosing a software development company, a business needs to make sure of its plan, budget, and aim. In the upcoming sections, you will understand some key advantages of custom software development that will help you determine the most suitable solution for your business.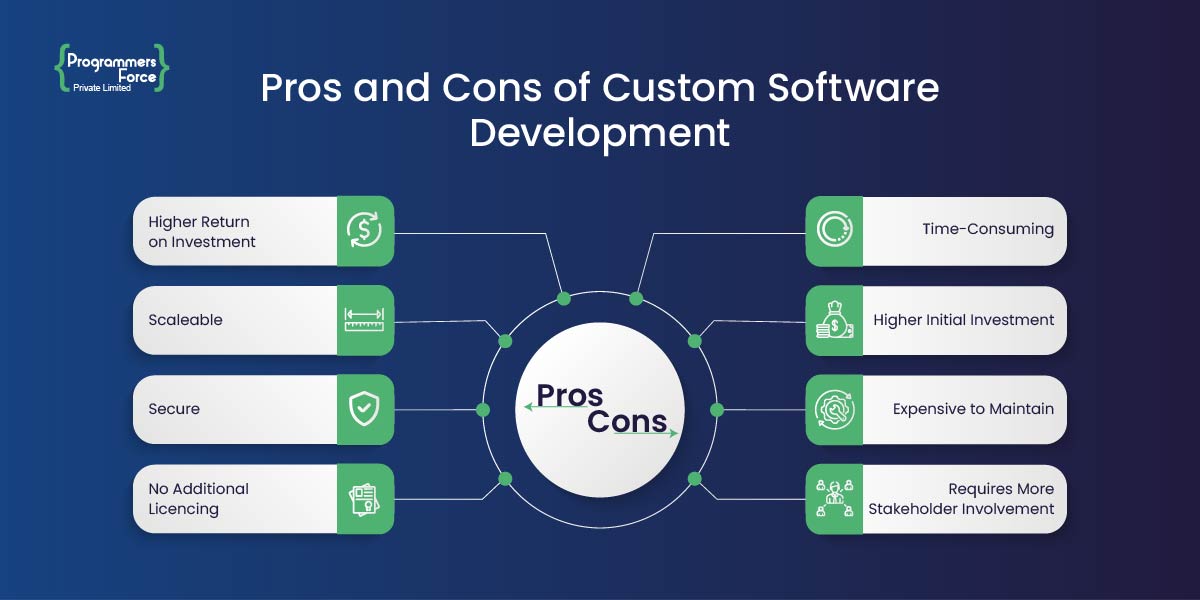 Higher ROI
Return on investment is every business's first priority and custom software development offers a higher ROI as compared to any pre-built program. Custom software, which can be a web application or a desktop solution, is designed specifically for a particular firm, that provides all the promising features and intricate designs stakeholders are looking for. With off-the-shelf software, many added costs minimize the associated ROI and cost-to-benefit ratio of other software services that it comes with.
Future Possibilities with Scalability
Another significant upside of every custom software is the future possibility of easy scalability. This might be the most obvious advantage that every business opts for. These tailored solutions give a business complete flexibility to engage the application that allows seamless customer engagement and helps in getting new leads from potential clients. With the addition of new technologies custom software solutions are becoming more efficient and reliable as companies employ augmented software development techniques under the hood.
Higher Security
Security is also one of the topmost priorities for businesses as fraudsters are getting more and more advanced in breaching online platforms. Custom software excels in this area as well when compared with pre-built software. One reason is that a wider range of organizations uses off-the-shelf software because of which hackers are always on the lookout for finding vulnerabilities. 
No Additional Licencing 
Where off-the-shelf software comes with ready-to-deploy functionalities, it also requires additional licensing that makes monetization harder. Also, these solutions do not allow the program ownership to the business even after licensing costs are paid. On the other hand, custom software requires no additional licensing and is completely owned by the firm. It can change, modify or sell the proprietary software in the future if it needs to. 
Main Disadvantages of Custom Software: The Cons
Here are some cons to custom software development that every business needs to be aware of before signing a contract with a custom software development company. 
Time-Consuming
Custom software development is a time-consuming process, and the truth is that it can take up to months if the business is not careful when hiring a dedicated software development company. While pre-built software solutions are one payment away, custom software made for commercial purposes takes time to develop and in case of urgent MVP delivery, it might cost a firm to spend extra money. 
Higher Investment Upfront
A custom software solution when developed for a business, regardless of the industry it operates in, will take more upfront investment. As the solution requires a complete software development team and tools to get that solution deployed on the cloud, the investors need to have a higher starting investment compared to off-the-shelf software that comes with a yearly subscription. Custom software development requires specific skills and knowledge, and the cost of recruiting or training a development team may be significant. Moreover, custom software sometimes demands licensing for development tools and technologies, which adds to the initial expenditures. This increased initial expenditure may not be feasible for many firms, especially those with limited resources.
Expensive Maintenance
As custom software is built on the tools and resources of the stakeholder's requirement, it also requires timely maintenance from the custom software development company. On the other hand, pre-built solutions are automatically updated occasionally. Once designed and installed, the custom software needs continual maintenance to stay current and functioning. This includes updates, bug fixes, and security patches on a regular basis. Maintenance costs may pile up over time and may need specialized work and budget allocation, burdening a company's financial resources. 
Requires Involvement of Company Management
The engagement of upper-level management is typically crucial during the creation of custom software. Involvement in the development process includes things like participating in the planning and design stages, as well as maintaining open lines of communication and making decisions as needed. This time-consuming process may distract key stakeholders from other strategic priorities. It's difficult for organizations with limited resources or conflicting goals since it demands top-level management to be involved in the development process.
How Programmers Force Can Help
Finally, custom software development can provide organizations with unique solutions as per their business requirements. There are many ways in which custom software can benefit its users, from enhanced performance and efficiency to a more pleasant overall experience. However, before beginning a custom software development project, it is essential to consider the benefits and drawbacks thoroughly. The involvement of upper management and longer development times are just two examples of the potential downsides.